Giving retirement planning a wild twist
Shot in documentary-style with a David Attenborough-like narrative, DDB has breathed new life to the age-old topic of retirement planning in a Singapore government campaign for the Ministry of Communications and Information (MCI).
With reports suggesting that Singaporeans are spending less time thinking – let alone planning – for retirement, more needed to be done. This clever campaign by DDB Group goes back to primal instincts, using animal metaphors to make the case for planning and retiring well.
With a cast of the nation's popular local artistes, DDB created four TV spots to make the case for retirement-adequacy planning – as told by a squirrel, a hermit crab, a sparrow and a pair of rabbits – with each artiste appearing as his animal alter ego. The videos give helpful advice about growing one's retirement nest egg through CPF savings, how housing decisions and housing schemes can contribute to retirement planning and managing healthcare costs in retirement age.
The first TV spot unveiled features actor, comedian and radio personality, Suhaimi Yusof. With his trademark exaggerated and spontaneous acting, Suhaimi was cast as a life-sized squirrel, conscientiously stashing away acorn after acorn. This underscores the message that saving for a rainy day is not hard, especially with a combination of both Central Provident Funds ("CPF") and personal savings to grow cash and top up CPF special accounts.
Comedian and sometimes-serious actor Chua Enlai debuts as a hermit crab that has outgrown his home. Instead of shelling out a fortune to keep a roof over his head, the television spot introduces the various housing grants, including the Special CPF, Additional and Proximity Housing Grants.
Ahamed Ali Khan appears as an elderly sparrow who broke his wing manoeuvring a thunderstorm. He landed up having to go for physiotherapy before he could take flight again, funded by MediShield Life and CHAS.
The Empty Nest syndrome seems to affect all mammals. It dawned on local artistes Liu Ling Ling and Wang Lei, who were furry parents to a bunch of well-bred hares, that their little burrow was suddenly too large for them once their bunnies left the nest. To dangle a carrot for empty nesters, the silver-haired were able to explore the Lease Buyback Scheme and earn extra rental income.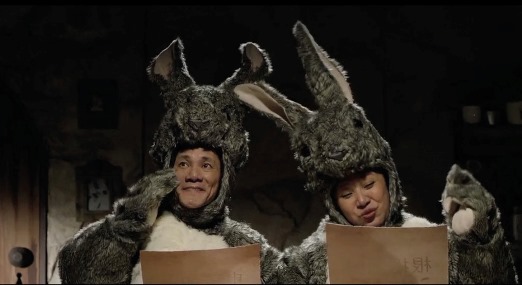 Since launching, the campaign has received positive response from the public and the results are encouraging. The videos have each crossed the one million mark in the first week of launch.
The documentary-style coupled with vivid characters invites the public to take another look at the schemes and policies available for them to make a choice.
"We need to refresh our campaign approach and breathe life and interest into a daunting topic like retirement adequacy. We are encouraged by the positive public reception. We hope that this creative approach will prompt more Singaporeans to be more aware of the importance of retirement planning." Karen Tan, Senior Director of the Public Communications Division of MCI said.
"There's a genre of Singapore advertising that locals appreciate. It's not bland and sterile, but it can be a lot of fun where the messages easily digested by Singaporeans. All that light-hearted acting, artistes and comedians in animal costumes makes the subject of saving, retirement, healthcare and housing less daunting to the folks on the street." Jeff Cheong, President of Tribal Worldwide Asia said.
"We've ensured we reach the younger audience online with interactive YouTube videos that allow people to make their own choices and see how the scenarios play out." Cheong continued.
The four-part series will run on local television, selected cable channels, digital screens and cinemas till end July.
The series can be viewed here:
https://www.youtube.com/playlist?list=PLH2CR4s1lqyjuqOhIuU-IhXBTonS03jFK